Solid Snake:
A former member of FOXHOUND. An expert at infiltration, he always can accomplish his mission under any circumstances, in any location.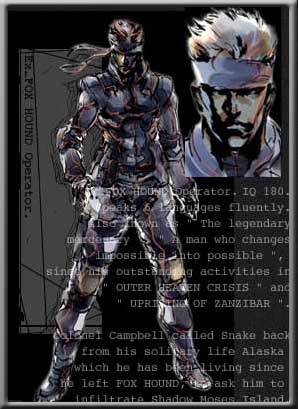 Meryl Silverburgh:
Campbell's niece. She has been thrown into the middle of FOXHOUND's revolt. She has excellent training as a soldier, but no actual combat experience.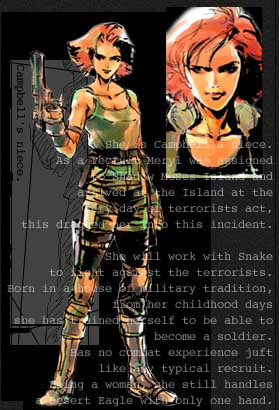 Naomi Hunter:
Chief of FOXHOUND's medical staff, she's in charge of gene therapy. She works along with Campbell to provide support for Snake.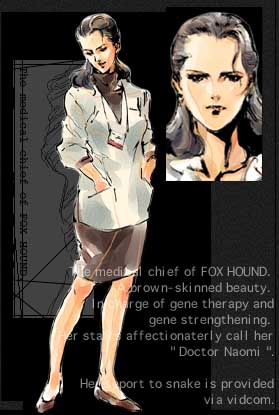 Mei Ling:
Operator in charge of communication data processing for this operation. She invented the Codec communicator that Snake uses.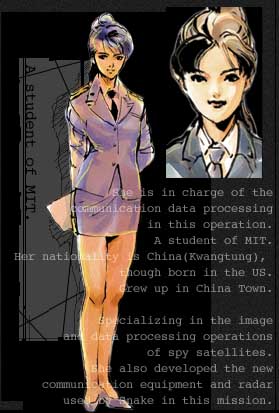 Jim Houseman:
Secretary of Defence. He commands this counterterrorist operation from his AWACS (Airborne Warning and Control System) plane.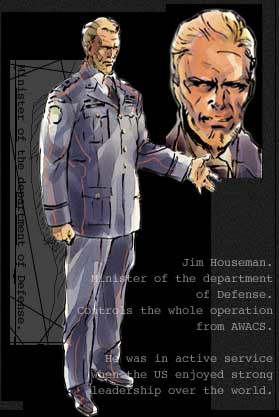 Liquid Snake:
A man with the same face as Snake. As FOXHOUND's battle leader, he's the mastermind behind the terrorist attack.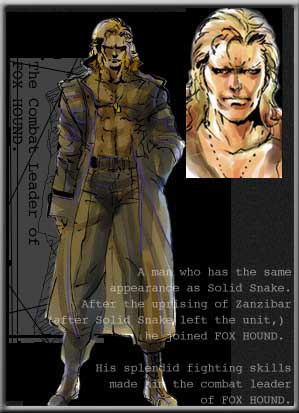 Revolver Ocelot:
A member of FOXHOUND. An expert with handguns and a sadist with a penchant for toture. A formidable gunfighter.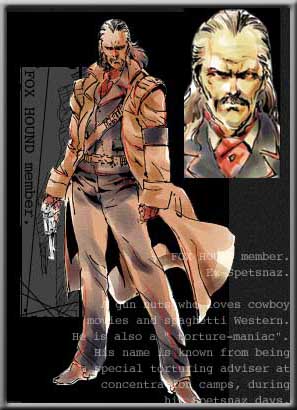 Vulcan Raven:
A member of FOXHOUND. He's a giant shaman with strong spiritual powers. He's blessed with a powerful body, which is resistant to extreme cold.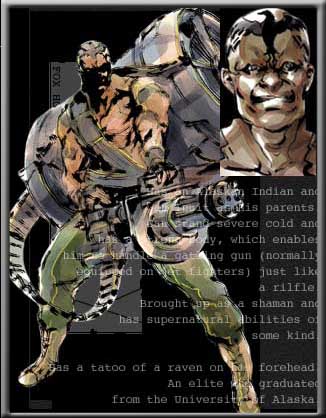 Sniper Wolf:
A member of FOXHOUND. A brilliant sniper, she can wait in sniping position for up to a week without moving a muscle.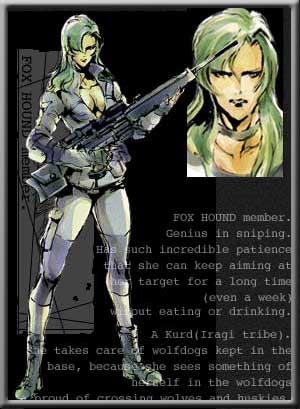 Psycho Mantis:
A member of FOXHOUND and a former member of the KGB's Psychic Intelligence Unit. He has powerful telekinetic and mind-reading abilities.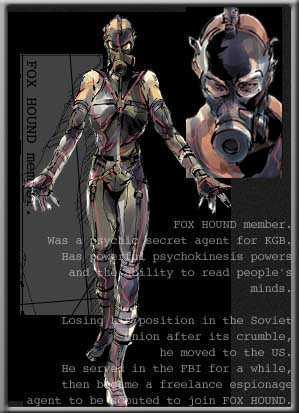 Ninja:
Little is known about this "cyborg ninja." He uses stealth camouflage and wields a Japnese katana that can cut through steel like butter and even deflect bullets. But whose side is he on?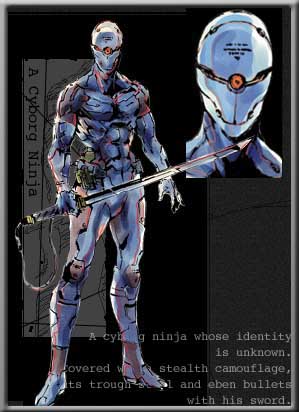 Metal Gear:
A nuclear-equipped walking battle tank. Its main selling point was its ability to launch a variety of nuclear warheads toward anywhere on earth from any location. With the ability to move independently instead of using a standard nuclear launch module, it was equipped with a weapon, which allowed it to launch a nuclear weapon with no external support. Because it could operate from regions, which were-up to that point-not on the world's nuclear stategy map, it was a weapon that destroyed the sensitive balance of nuclear deterrence and represented an enormous threat to the entire world.

Big Boss:
An extraordinary man who worked as a mercenary for numerous countries during the 1960s. He achieved nearmythic status during his lifetime as the famous "Legendary Soldier." In the 1990s, he secretly created Outer Heaven while officially serving as commander of unit FOXHOUND, but he was defeated by Solid Snake. Later, he formed the nation of Zanzibar, but his plans were foiled by Solid Snake. His remains were preserved by the military as a genetic sample of the "greatest soldier that ever lived."

Grey Fox:
Real name: Frank Jaeger. The only man with the honor of receiving FOXHOUND's highest codename, "Fox." During the Outer Heaven Revolt, he was the first FOXHOUND sent to infiltrate Outer Heaven. He was captured while gathering information about Metal Gear TX-55, but was rescued by Solid Snake. After Big Boss left the military, Grey Fox mysteriously disappered as well. Later, in Zanzibar, he fought against FOXHOUND, alongside Big Boss as he declared war against the rest of the world. Acting on orders, Snake was forced to defeat him.

Roy Campbell:
Former Commander of FOXHOUND. Although retired, he was called back to active duty as operation commander because only he knows Solid Snake.

Genome Soldiers [NBC Warfare, Light Infantry, Artic Warfare, and Heavily Armed]:
Members of the Next Generation Special Forces and reserve members of Unit FOXHOUND. Although they have no actual combat experience, they have been rigorously trained in VR simulators.

Hal Emmerich:
An employee of ArmsTech Inc. a fan of Japanese animation, his nickname-Otacon-stands for Otaku Convention.

Nastasha Romanenko:
A freelance military analyst. She provides support to Snake as a specialist in nuclear technology.

Master Miller:
FOXHOUND's former survival teacher. He provides Snake support by Codec.

Donald Anderson:
Director of the Defence Advanced Reaserch Projects Agency (DARPA). He's been taken hostage by the terrorists.

Kenneth Baker:
President of a huge arms conglomerate (ArmsTech Inc.). He's been taken hostage by the terrorists along with the DARPA cheif, Donald Anderson.